Blogger doesn't seem to want to cooperate with me today. So I'll have to improvise from my original plan. *grins*

Some of you may not know that we are a homeschooling family. History being my passion, I try to take advantage of opportunities when they arrive. My youngest daughter is studying the medieval era this year. When a friend of mine, who also homeschools, suggested we take our girls to the RenFest during the Highlander week, I jumped at the chance.

I had no idea what to expect.

Our first venue was the caber toss.


It was actually more interesting than I thought it would be. When we walked by the arena, my first thought was wow, those are much smaller than what I've seen. But then I watched these rather brawny men lift and toss these poles end over end and I was impressed. What impressed me even more were the few women that gave it a go.

Although our girls did sit and watch the women heft the seventy pound poles into the air, they lost interest when the men took the game back. Our girls, realizing they were much too young to join the event, decided they'd much rather play at acrobatics (this is one of those pictures that would not load for me).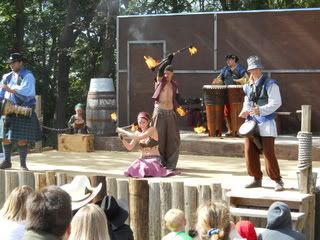 After spending a few minutes on the sling shot thingamajig, the girls quickly found a new attraction. Fire. I do believe my twelve year old has found what she wants to be when she grows up. ;) Given a choice, I wish it were the costumes that lured her, but I fear it may have been the element of danger.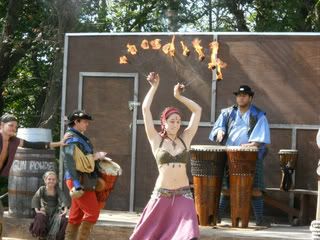 We spent hours wandering around and I don't think we saw all there was to see. It was neat to watch the forging, the leather tooling and the tatting. We even watched a guy work on chain mail.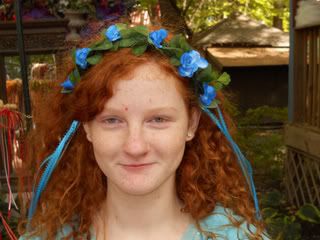 Doesn't she look like she was having fun? Believe it or not, she was the only curly red head. After we arrived home, the child spent a few hours on the computer researching the Renaissance era. Yesterday, I took her to the fabric store to look through patterns. She's determined to have one of those cool costumes. I was hoping for something a little on the simpler side, but wouldn't you know that wasn't the case. To see what she chose click here. And she decided she wants it to match the head piece you see in the picture above.

As for me, I had fun, but I enjoyed seeing my child's interest in history take flight even more.

Renee