I recently read an interesting
blog post
on weather in England during the Regency period. As a native Clevelander, weather is often on my mind; when I haven't considered the weather before venturing out, I usually regret it. Sometimes it's gorgeous, other times not so much, but it is ever-changing. Anyway, it got me thinking about where one might find information on such things in history: weather, what the headline in the newspaper was, what was playing at Drury Lane, what people did for fun. So, this hodge-podge post offers a few, hopefully interesting, tidbits on random stuff I have been thinking about.
Weather
For some of you, this may be old news, but bear with me, as I am often the last to know anything. Did you know that there was a "Little Ice Age" in Britain that lasted over 400 years, and didn't end until the 19th century? The Thames froze so thick that it was common to have
Frost Fairs
on the river during the winter months. Google "Frost Fairs" and you will find a number of pictures and articles: there are some "zoomable" images here:
http://www.bl.uk/onlinegallery/onlineex/kinggeorge/t/003ktop00000027u04100001.html
.
You can find data on average temperature (1659 forward) and precipitation (1766 forward) in England on the website of the
Royal Meterological Society
.
This
site
has interesting descriptions of English winters from the 17th century to the present day. For example, 1816 was the year without a summer, and on Christmas day in 1836, snow accumulated up to 15 feet, with drifts of up to 50 feet!
That last site refers to a volcanic eruption having an impact on English weather, not unlike the eruption that we all remember from 2010. Thinking about this made me wonder about historical weather events outside of England that may have had an impact, such as this 18th century
volcanic eruption in Iceland
.
Newspapers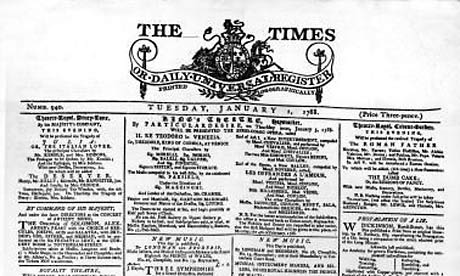 The first issue of The Times, 1 Jan 1788
Source: Wikipedia
Although news was not instantaneous in the 18th and 19th centuries, as it is today, newspapers nevertheless played an important role in daily life, and can offer a wealth of information, including, of course, what was playing at Drury Lane (on
December 4, 1788
, it was Mr. Kemble in
Rule a Wife, and Have a Wife)
.
The British Library offers online access to
British newspapers
from 1800 to the present day. An
article
on the British Library website reports the following: "
In 1800, four main daily newspapers were being published in London, of roughly equal importance: the Morning Post; the Morning Chronicle; the Morning Herald and The Times."
Access to the British Library collection is by subscription, although it is free if you are affiliated with a subscribing institution, such as a British university. Another interesting summary of British newspapers is available at
http://www.georgianindex.net/publications/newspapers/news_sources.html
. There are some newspapers available at the
National Archives
, and you can also find a number of periodicals on
GoogleBooks
--for reasons which escape me, there is particularly good coverage of the
Journal of the Royal Agricultural Society
, with marvelously titled articles like "Wild Birds, Useful and Injurious (
With Seven Illustrations
)" and "Marigolds Running to Seed."
This site offers access to a few 18th century journals for free:
http://www.bodley.ox.ac.uk/ilej/
; and this one offers links to a number of other sites, including German, French, Dutch and other European papers:
http://www.xooxleanswers.com/free-newspaper-archives/newspaper-archives-europe/
. You can find information on Canadian newspapers at
http://www.thecanadianencyclopedia.com/articles/newspapers
.
Entertainments
Theatre
Much is made of theatre in period literature and in historical fiction. It was an amusing diversion both for the rich and those less well-off, and for the former, it was a place to see and be seen.
This is an interesting article on the business of nineteenth century theatre and its personalities:
http://www.vam.ac.uk/content/articles/0-9/19th-century-theatre/
. This article offers facts on the individual theatres:
http://www.victorianweb.org/mt/theaters/pva234.html
. Some tidbits: The Adelphi was the first theatre to feature adaptations of the novels of Charles Dickens; the first female theatre manager in London was Eliza Vestris, who managed the Olympic Theatre in 1830; the celebrated actor Edmund Kean made his Drury Lane debut in 1814 as Shylock in
The Merchant of Venice
.
Vauxhall
Vauxhall Gardens by Samuel Wale, c1751. Source: Wikipedia
What post on historical English curiosities could be complete without mention of Vauxhall Gardens, the celebrated "pleasure gardens" which feature rather heavily in historical romance novels, with heavily wooded paths and secluded arbors just perfect for trysting aristocrats? There is a marvelous description of Vauxhall from 1760, by Goldsmith, in
Curiosities of London
:
Exhibiting the Most Rare and Remarkable Objects of Interest in the Metropolis; With Nearly Fifty Years' Personal Reflections, by John Timbs (p. 747, available on GoogleBooks):
"The illuminations began before we arrived; and I must confess that upon entering the Gardens I found every sense overpaid

with more than expected pleasure: the lights every where glimmering through scarcely moving trees; the full-bodied concert bursting on the stillness of night; the natural concert of the birds in the more retired part of the grove, vieing with that which was formed by art; the company gaily dressed, looking satisfied, and the tables spread with various delicacies,--all conspired to fill my imagination with the visionary happiness of the Arabian lawgiver, and lifted me into an ecstasy of admiration.
"
As I can't possibly top that (and I need to go find out more about Arabian lawgivers), I bid you adieu until next time,
Marin